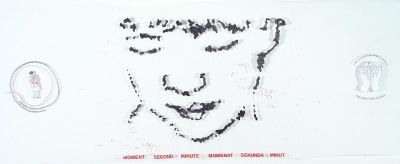 Moment, Second, Minute (2005),
60cmx180cm, thread, tulle, vinyl

lettering, stitching, pins

​

When I found a photo of myself as a child, cradling a lamb, on one of the visits to my grandparents, it triggered a memory of my mother's poignant story of the pet lamb she had on a farm. In "Strawberry season" series I explored love and loss, trust and betrayal, based on the universal symbolism of a "sacrificial lamb". Bilingual words/statements (English and Serbian) are a reflection of my belonging to two cultures.
​Moment, Second, Minute (detail)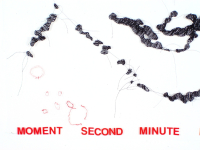 Moment, Second, Minute (detail)